One of the most important aspects of using your OVHcloud services is the management of your account information. In this article, we will walk you through creating an account, changing your account information, and other aspects of account management in the OVHcloud Manager.
Topics
Creating an OVHcloud Account
To create an account with OVHcloud, visit our "Log in to OVHcloud" page. Add your information into the "I'm new to OVHcloud US" box. Once you have read and accepted the Terms of Service and Privacy Policy, click Create an account.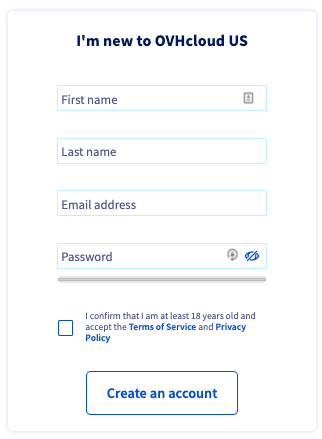 An email will be sent to you containing instructions to finish creating your account.
Note: If you try to order an OVHcloud service without first creating an account, you will be prompted to create an account in the course of placing your order. The process will be the same.
Editing Your Contact Information
In this section, we will be editing the contact information for your OVHcloud account. To do so, navigate to the account page from the Dashboard. Next to "Customer code" in the "My profile" box, click ... and select Edit my profile.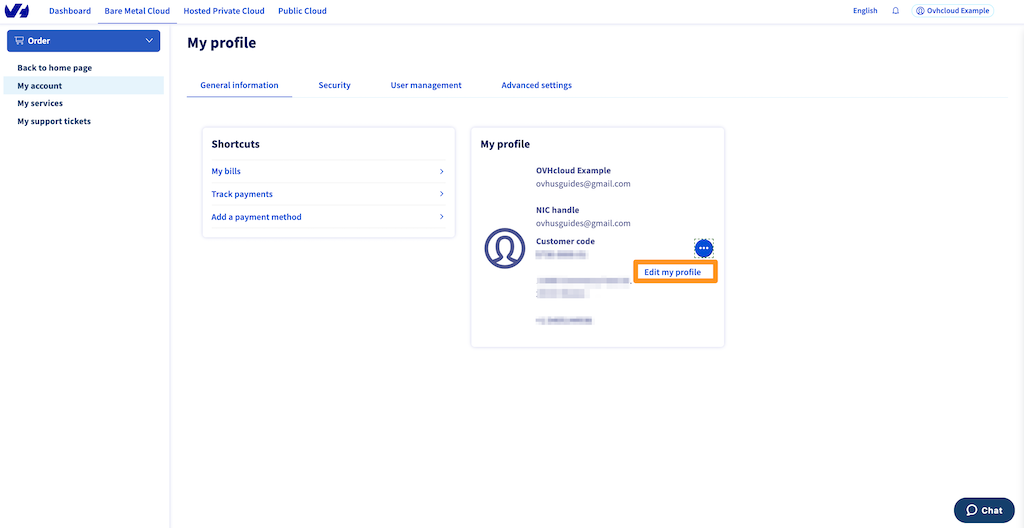 The "My profile" page has your customer code (we will learn more about that in the next section), primary email, secondary email, mailing address, phone number, etc... To update, edit the information, and click Confirm at the bottom of the form to save the changes.


If you are updating your email address, an email with a verification link will be sent to your current email address. Click the verification link and click the Validate this address button to complete the change. You will now need to log in with the new email address listed on your account.
Learning About Your Customer Code
Your customer code is a very useful tool for allowing you or an OVHcloud support agent to access your account. To view your customer code, navigate to the "My profile" page (see instructions in the previous section). Your customer code will be the first piece of information on this page.

There are two main ways to use your customer code. First, you can use your customer code to log into your account in place of your email address, if you forget the email address attached to your account. Secondly, OVHcloud Support will use your customer code as a unique identifier for your account. Having your customer code ready to give to a support agent will help speed up the process, ensuring you receive the support you require in the most expedient manner possible.
Resetting Your Password
From time to time, everyone loses a password and needs to reset it. Should this happen to you, there is an easy way to reset your password. Visit the Log in to OVHcloud page. Under the Login button, click Forgotten your username or password? link. Enter the email address attached to your account and a password reset link will be emailed to you.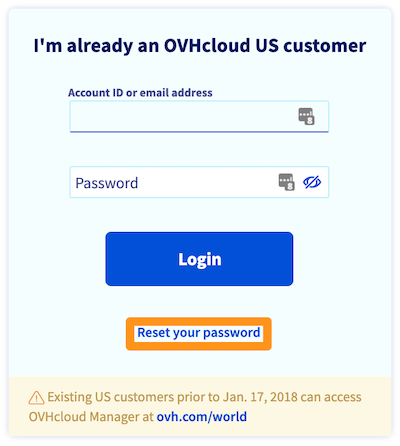 Conclusion
After reading this article, you should have a good handle on the basic informational components of your account and how to alter them when necessary. If you have any questions or concerns about any of the information contained in this article, feel free to contact OVHcloud Support via chat or ticket and they will be happy to assist you further.