IP blocks can be used to make your services accessible online. In this article, we will cover how to order, add, and migrate and IP block in your vCenter environment.
Topics
Ordering an IP Block
To order an IP block for your vCenter environment, go to the OVHcloud Control Panel. In the Bare Metal Cloud section, click IP on the left-hand sidebar. Then click Order additional IPs.

Select the vCenter environment to which you wish to add IPs. You will need to follow the pop-up menu and fill in the proper fields to finish ordering your IP addresses, detailed below.
Size of IP block - You can choose between anything from a /28 (16 IPs) to a /24 (256 IPs)
The country in which an IP block is hosted is important for your services' SEO rankings (a website based in the US will have a higher SEO ranking in the US if the IP address is American too)
Network name - information visible in WHOIS profile for the IP block
Estimated number of customers - how many end-users or customers will be hosted on these IPs
Network description - information visible in the WHOIS profile for the IP block
Usage - information on the usage (web, SSL, cloud, etc.)
Once you have confirmed the final step, you will receive the purchase order for your IP block. If everything looks correct in the purchase order, you will simply need to pay the total using one of the payment methods listed at the bottom of the page and your order will then be delivered.
Migrating an IP Block Between Two vCenter Environments
To migrate an IP block, navigate to the General information tab for the Managed Bare Metal service from which you wish to migrate an IP block. In the "General information" box, next to "Number of IP blocks", click on ... and select Attach IP blocks to another service from the drop-down menu.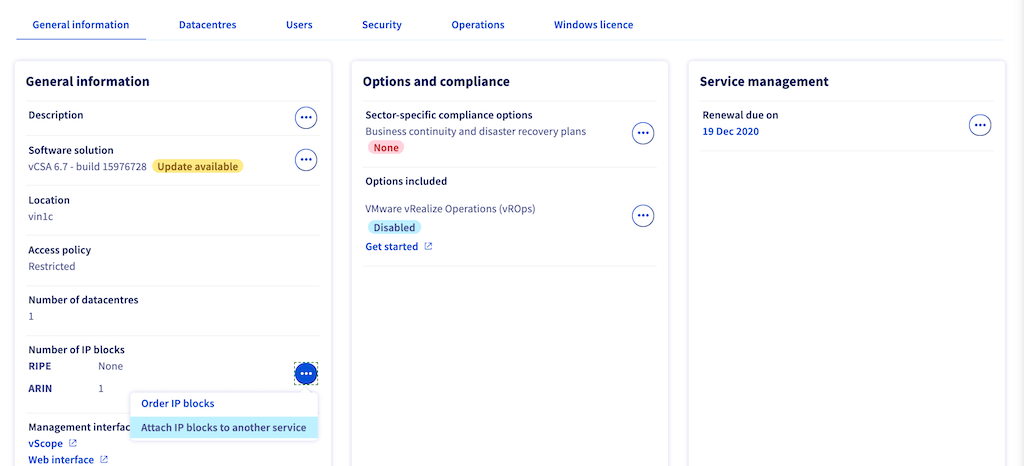 Choose the service to which you wish to migrate the IPs from the drop-down menu.
Click Confirm when you have confirmed that you have selected the correct service.
Warning: If you move an IP block to a Dedicated Server or Public Cloud project, the IPs will convert into additional IPs. Once this has been completed, moving them back to a Managed Bare Metal or Hosted Private Cloud will not change them back. They will remain additional IPs from this point forward.
Conclusion
Having read this article, you should be able to add an IP block to your vCenter environment as well as migrate IPs between your OVHcloud services.