The procedure for installing VMware Tools varies depending on the OS on your VM. For more information for operating systems not covered here, please see the VMware documentation for VMware Tools.
Topics
Linux (Recent Versions)
This installation method is valid for the following versions of GNU/Linux:
Fedora 19 and higher
Debian 7.x and higher
openSUSE 11.x and higher
Ubuntu 12.04 LTS and higher
Red Hat Enterprise Linux 7.0 and higher
CentOS 7.0 and higher
Oracle Linux 7.0 and higher
SUSE Linux Enterprise 11 SP4 and higher
Most recent Linux distributions offer the installation of VMware Tools via their package management systems. This allows VMware Tools to be maintained in the same way as other components of the VM's OS. If the distribution you are using offers this, you will be able to find the Open VM Tools under the package name: open-vm-tools
Linux (Older Versions)
Right-click the VM on which you wish to install VMware Tools and highlight Guest OS on the drop-down menu. Select Install VMware Tools from the ensuing menu.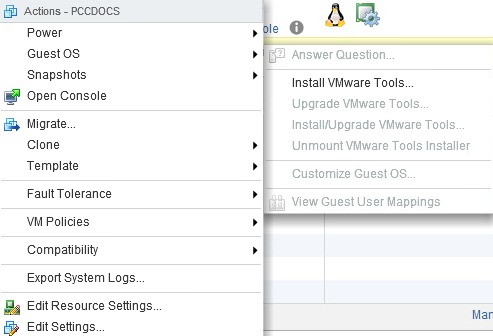 Then mount the volume using the following command:
# 

mount /dev/cdrom /mnt
Then unpack the VMware Tools archive (located in /tmp) using the following commands:
# 

cd /tmp$ tar xvf /mnt/VMwareTools*.tar.gz
# 

cd /tmp/vmware-tools-distrib
# 

./vmware-install.pl default
Once the installation is complete, the VMware Tools disk will automatically be unregistered from the system.
Windows
Find the disk in the "workstation" of your VM. Double-click it to start the installation of the Tools.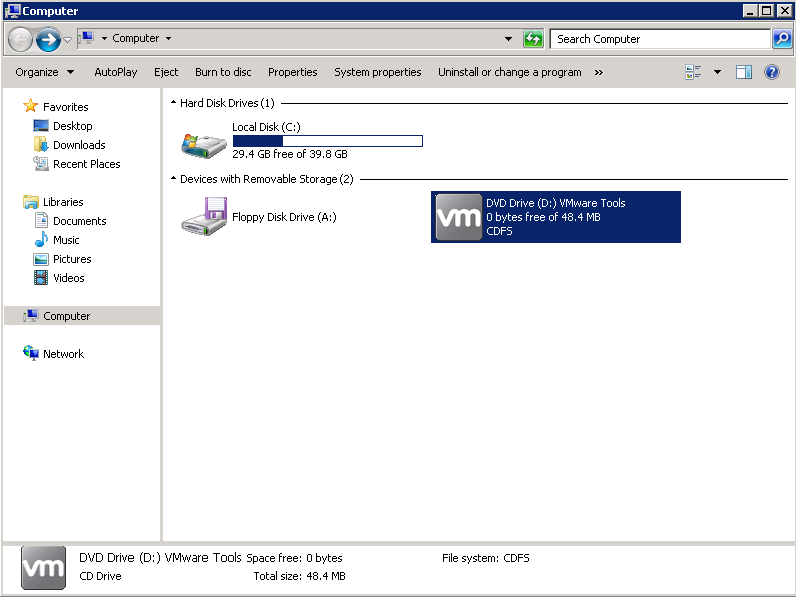 The installation wizard will then ask you to accept the licenses and select the type of installation (we recommend the "Full Installation"). Once the installation is complete, it will suggest that you restart the machine to propagate the changes. The CD drive will automatically be dismounted at the end of the installation.
Conclusion
Having read this article, you should be able to install VMware Tools on any Linux or Windows operating system.