OVHcloud customers have the ability to connect their services using VLAN (Virtual Local Area Network) technology. We call our implementation of this technology vRack (Virtual Rack). vRack allows the attachment of multiple services to a private, high-speed network to transfer data within the same data center or across multiple data centers. In this guide, we will discuss VLAN technology as well as how to order and install your vRack.
Note: vRack is unavailable on Eco range servers.
Topics
VLAN Technology
A VLAN creates a separate broadcast domain, which partitions and isolates a computer network at the data link layer (OSI layer 2). Traffic is identified via VLAN tags in the Ethernet frame. Only devices assigned to the same VLAN tag can see the traffic. Unlike a physical LAN, the physical location of the computers on a VLAN does not have to be in the same geographical area.
OVHcloud's VLAN deployment uses a one-to-one mapping of private IP addresses to MAC addresses, making it easy to manage your vRack using easier-to-read private IPs. If you've already activated your vRack, skip ahead to the Setting up vRack Using the OVHcloud Control Panel section.
Ordering and Activating vRack
Ordering and activating vRack is an easy process. In fact, you don't technically order vRack because vRack is free of charge with all OVHcloud services.
In this section, we will cover how to activate vRack. To begin, log into the OVHcloud Control Panel. Click the vRack option on the left-hand side of the screen, and click the Install now button on the following screen:
Note: For all future vRack activations, you can click the Order button and select the vRack option from the drop-down menu.

The "1 month" on the following screen refers to a monthly subscription that will automatically renew along with the rest of your OVHcloud services.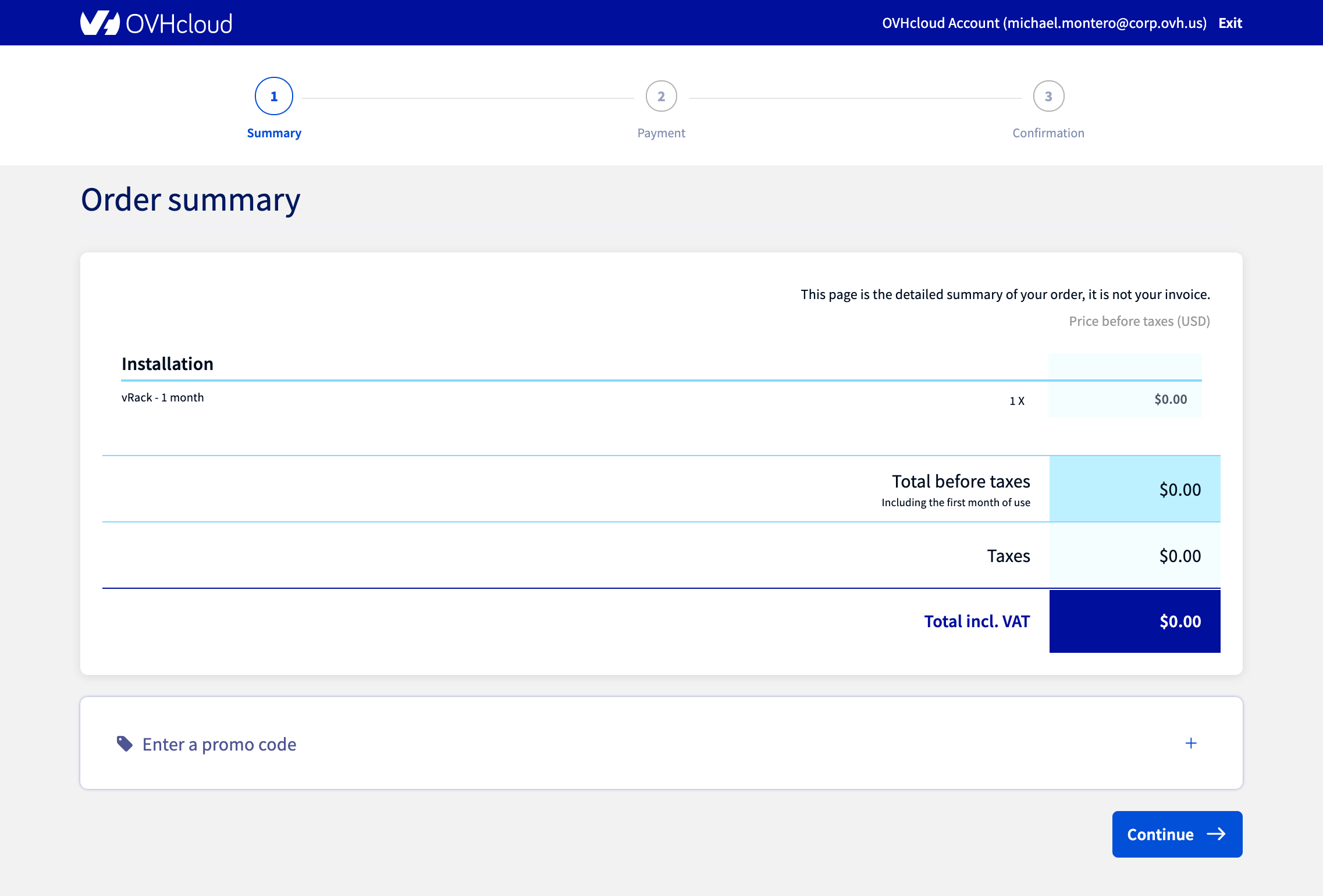 Proceed through the prompts to activate vRack. In the end, your vRack will show up in the "vRack" section of the OVHcloud Control Panel as follows.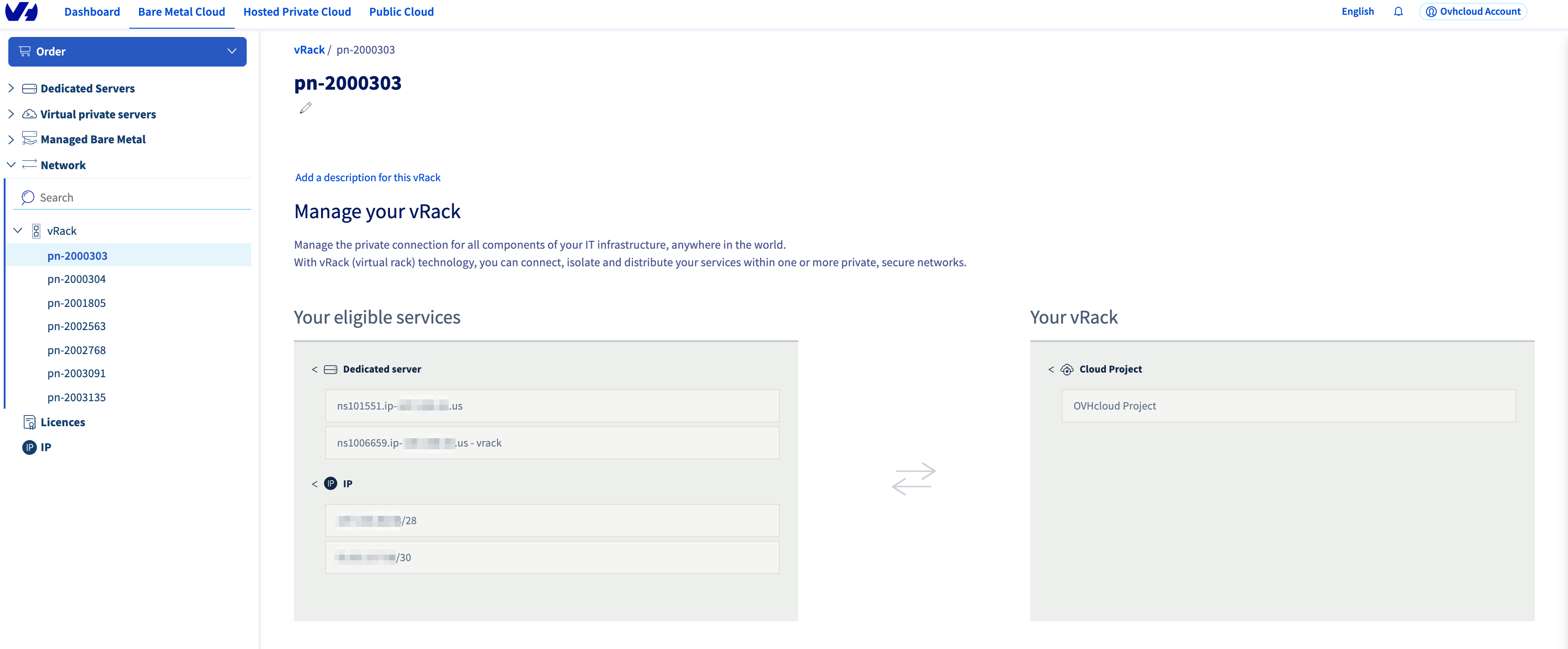 Your vRack is now installed and ready to configure.
Setting up vRack Using the OVHcloud Control Panel
To begin, log in to the OVHcloud Control Panel. Then, select Network followed by the vRack option from the left-hand column.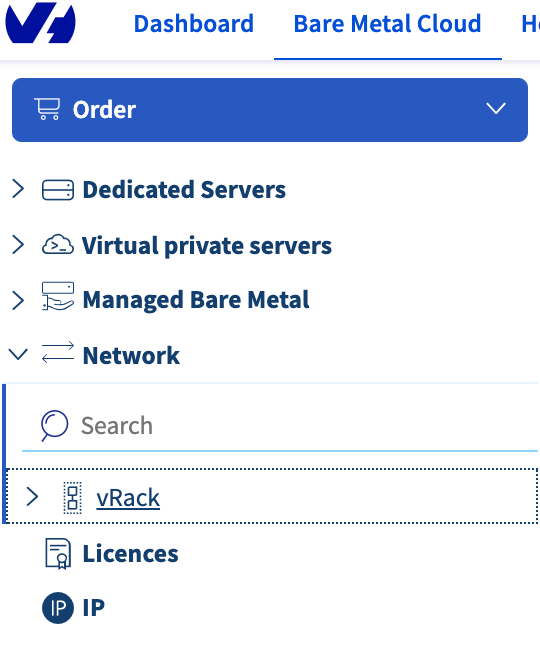 If you only have one vRack, then it will be selected by default. If you have multiple vRacks, select the one you would like to work with.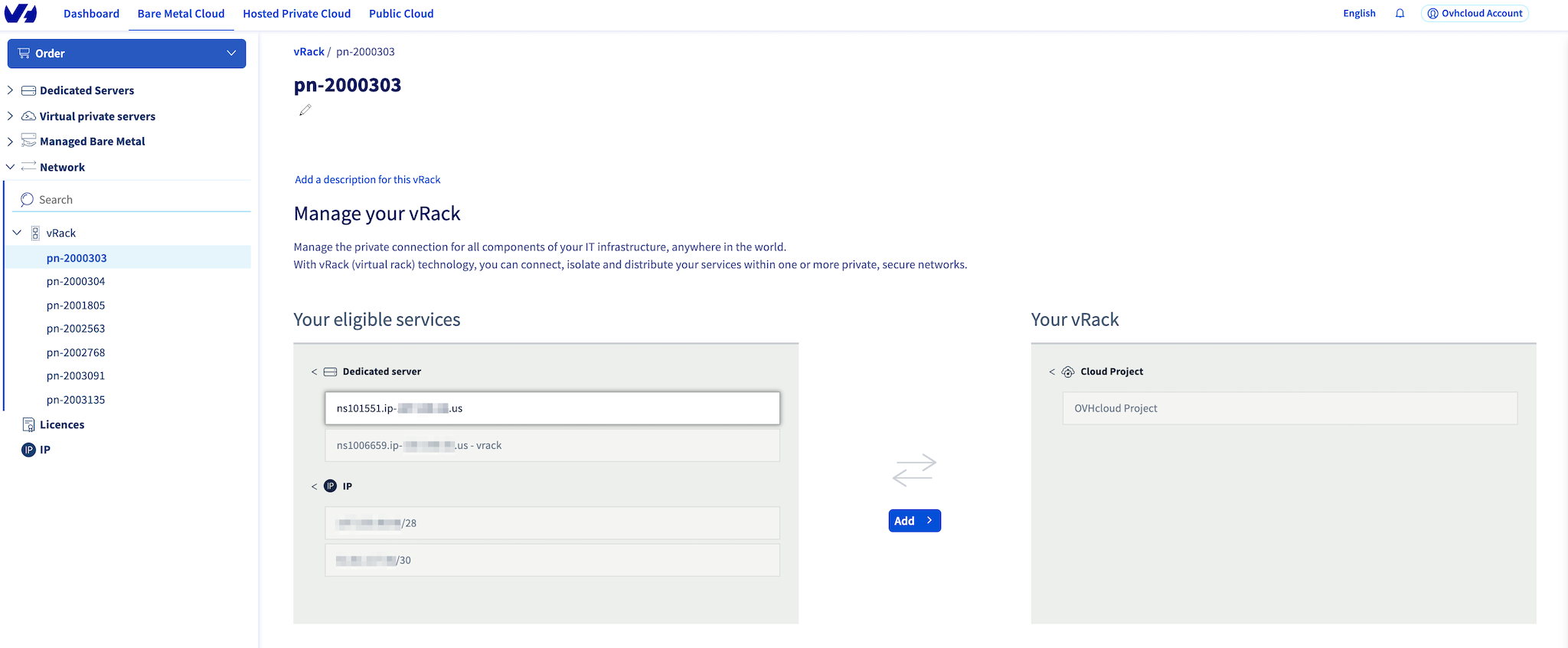 From the new page, you are able to manage your vRack; add and remove services to or from it. A list of available Dedicated Servers (ones with two NICs and not assigned to another vRack) are displayed. Select the server(s) you wish to add to your vRack and click the Add button.
Now that the Dedicated Server(s) are added to vRack you are able to set up the private network adapter(s) to network your servers together. The following articles will assist you with this, depending on your operating system.
Conclusion
OVHcloud makes it easy to use VLAN technology to achieve faster, more secure private connections between your OVHcloud services. Having read this guide, you should know that vRack is OVHcloud's deployment of a VLAN and understand how to order and activate it.