This guide will take you through the possibilities offered by Nutanix clusters installed on OVHcloud infrastructures, for implementing Disaster Recovery Plans (DRPs).
Requirements
Multiple Nutanix clusters with either organization:

Multiple Nutanix clusters at physically different sites at OVHcloud
A Nutanix cluster provided by OVHcloud and another Nutanix cluster from another provider

Access to the

 

OVHcloud Control Panel
Access to your clusters via Prism Central
A vRack or IPSEC VPN connection between the two clusters, as required
Solutions Overview
Interconnection solutions
As part of a disaster recovery plan, it is important to choose the right interconnection between remote sites.
The two clusters must be fully visible to each other through a secure connection.
To do this, you can use various methods such as:
Connecting all sites via the same

 

vRack.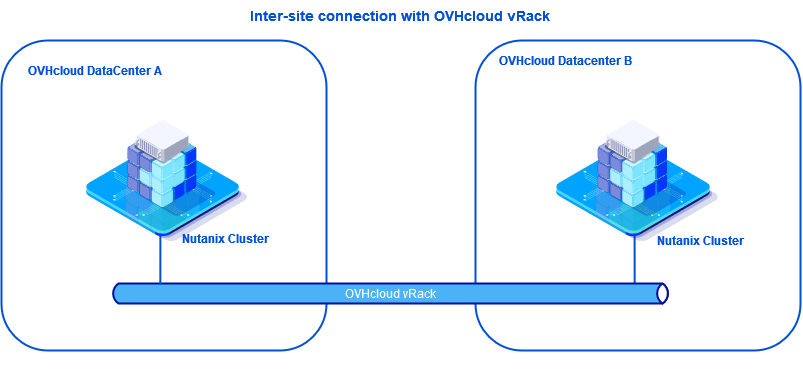 Setting up an IPsec VPN between the two Nutanix clusters.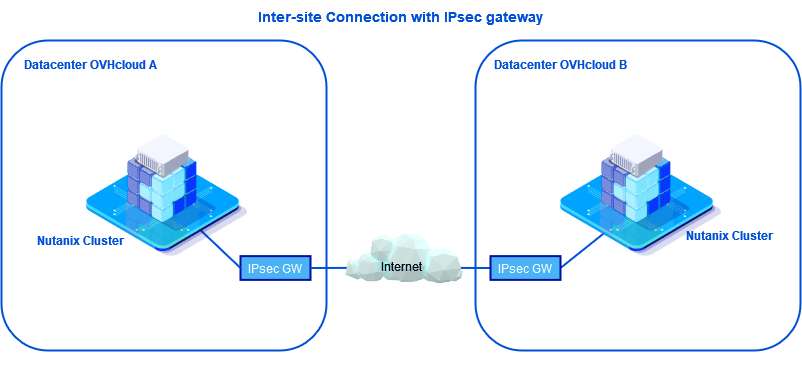 An example of an IPsec interconnection in this guide: IPsec interconnection between two sites.
Nutanix solutions for implementing a disaster recovery plan
Some solutions are available with Prism Element:
Async DR: Replication between two remote

 

storage containers

 

is only done once per hour. If a problem occurs, it is possible to lose one hour of data (RPO 1 hour) but the restart can be done manually in one minute.
NearSync DR: Replication occurs several times per hour. You can sync between 1 and 15 minutes, depending on the license you have (RPO between 1 and 15 minutes).
Details of these solutions can be found in our documentation on asynchronous or NearSync replication through Prism Element.
The management of disaster recovery plans can be improved via third-party tools or a Nutanix solution called Leap through Prism Central.
NOTE:
Asynchronous replication between two sites is integrated with the OVHcloud
Nutanix Standard
solution. However, you will need to upgrade to the OVHcloud
Nutanix Advanced
solution to use the other options.
Go further
For more information and tutorials, please see our other Nutanix support guides or explore the guides for other OVHcloud products and services.