OVHcloud is pleased to present OVHcloudShare, a tool used for file sharing which is available to all customers with an OVH US account. In this tutorial, we will be going over how to use OVHcloudShare, some use cases for it, and the different options for sharing files.
Topics
Legal Notice
In order to use the OVHcloudShare tool, you must first agree to the Terms of Use. Once you finish reading the document, select the checkbox and click the I AGREE button.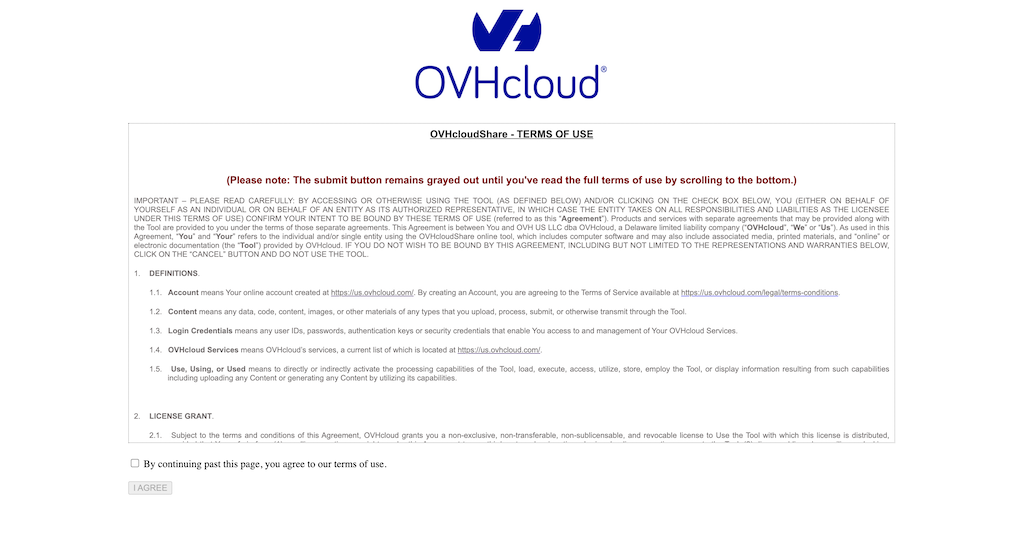 You will be directed to authenticate using the same OVHcloud credentials you use to log into the OVHcloud Manager.
OVHcloud Login
To proceed with using the OVHcloudShare tool, sign in to your OVHcloud account. Type in your credentials and click the Login button to proceed.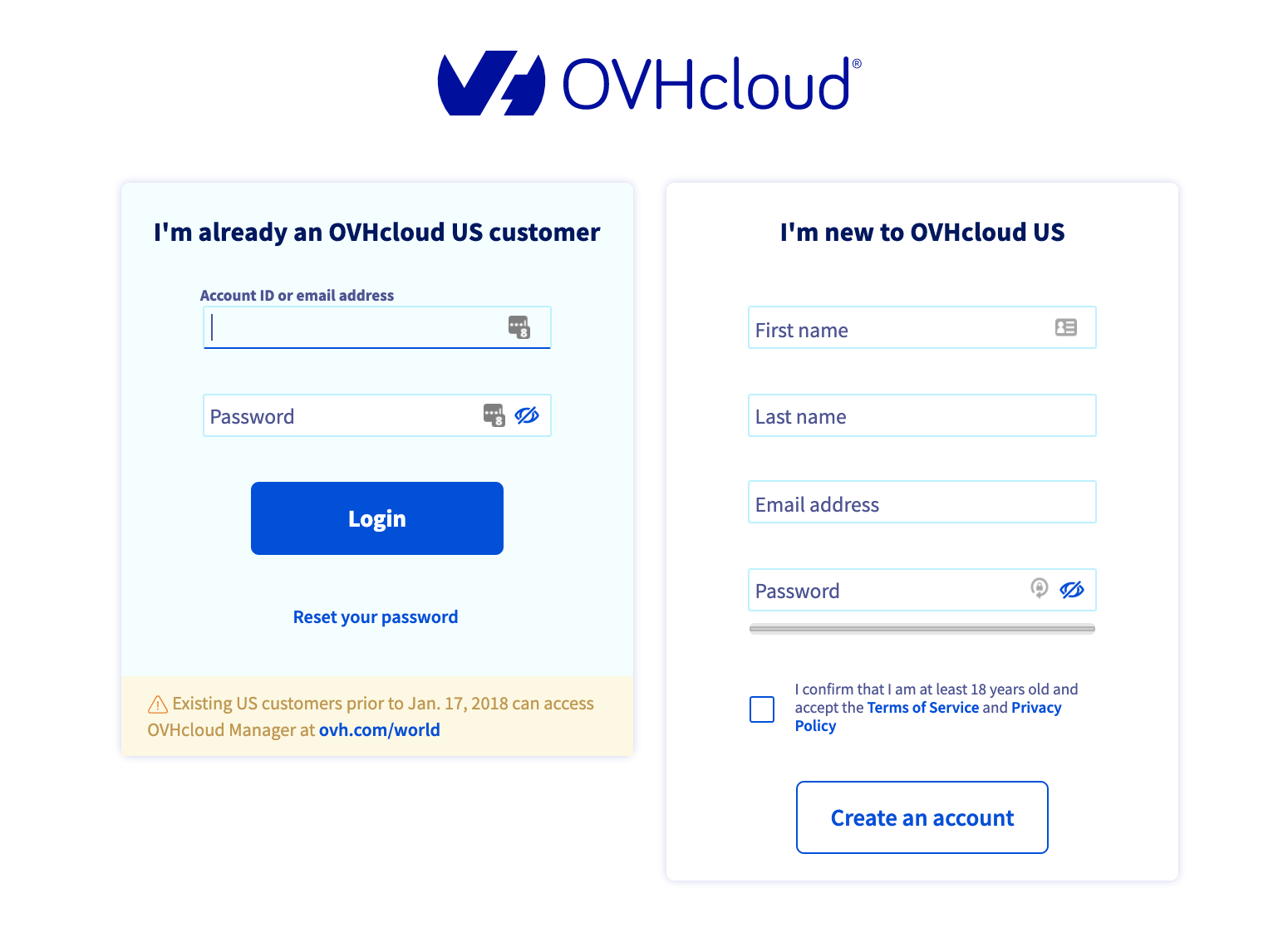 This will bring you to the upload page.
Uploading Files
Once logged in, you will see the following screen: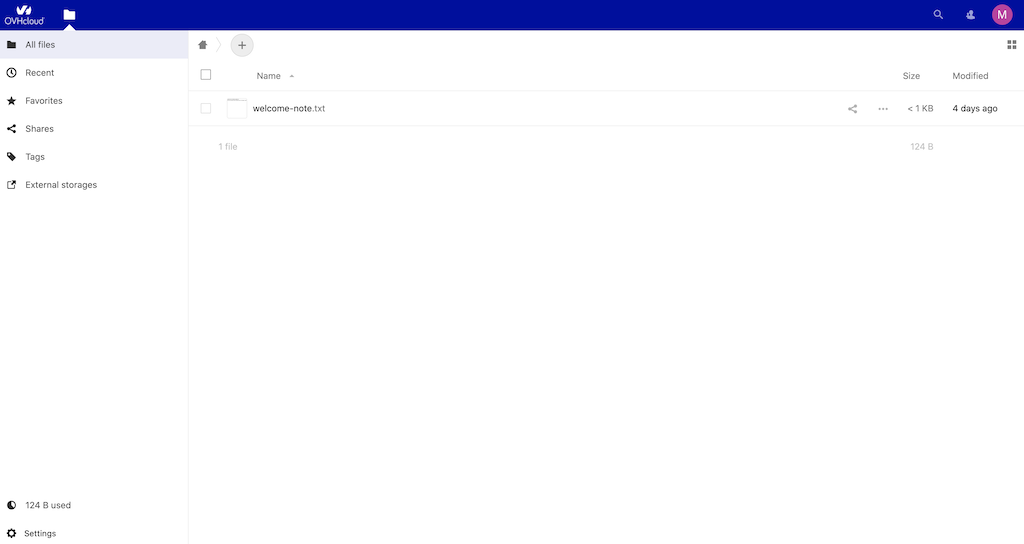 To upload a file, click the + button at the top of the screen and select Upload file from the drop-down menu. You will be prompted to upload the file from your local machine. Once the file has been uploaded, it will appear on your dashboard.

Note: Files uploaded to OVHcloudShare will be automatically deleted 30 days after they are first uploaded. Files are limited to 10 GB in size.
Sharing Files
To share your file, click the Share icon next to the file which you would like to share.

Click the + next to "Share link" and you will see the following popup.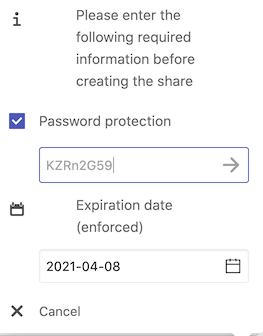 Note: If you set a password, you will need to determine a secure way to send it to OVHcloud support to access the file.
To allow your end-user(s) to download your files, give them the link to the individual file.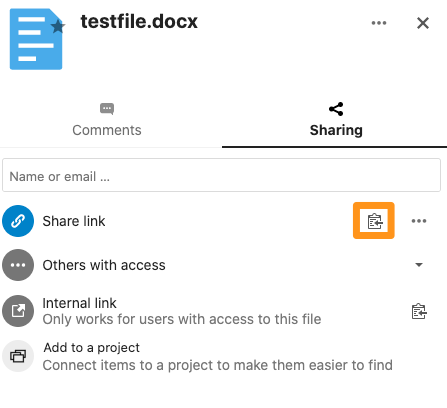 You can get the link by clicking the copy icon next to "Share link" in the file's share menu.
Deleting Files
To delete a file, click the ... next to the file in question and select Delete file from the drop-down menu.

Note: If you do not delete a file manually, it will automatically be deleted after 30 days.
Conclusion
Whether you need to share your files with our technical support team for a support request, share them with colleagues for collaboration, or simply show them to friends and family, OVHcloudShare will be readily available for your needs.