If you want your whois results to contain your information, you can add your ARIN Organization to IPs in the OVHcloud Manager. This article will walk you through the steps necessary to achieve this.
Note: To learn more about ARIN and what they do for the functionality of the internet, check out them out here.
Topics
Adding an ARIN Organization to an IP Address
Adding an ARIN Organization to an IP Address
Note: You can not add an organization to a /32 IP block (a single IP for a product or a single failover IP).
To add an ARIN Organization to an IP address, log into the OVHcloud Manager. Click Server at the top of the page and select IP from the left-hand sidebar. Click My organisations on the right-hand side of the page.

Next, click Add an organisation.

Enter your organization's information in the pop-up window that follows. Click Next and then confirm that your information is correct in the following pop-up menu. Click Confirm when you have done so.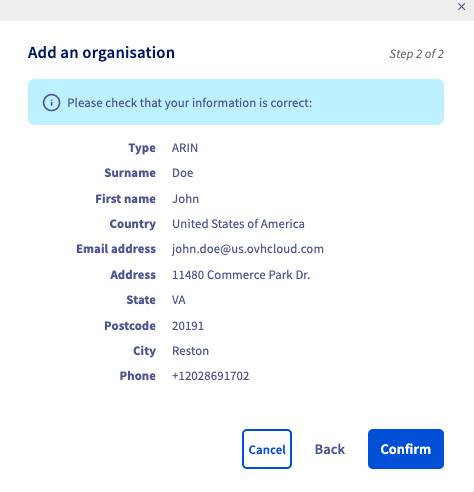 Take note of your newly-created organization ID and allow at least 24 hours for ARIN to be updated.
Note: Updating geolocation databases is beyond the control of OVHcloud. It is handled by third-party operators. It can take some time for these databases to be updated.
Conclusion
Having read this article, you should be able to add an ARIN organization to your ARIN IP block in the OVHcloud Manager.