At OVHcloud, deleting a VPS is an easy process. This article will detail two different options for deleting your VPS.
Warning: Any failover IPs or licenses attached to your server will need to be deleted separately. Not doing so will incur the continued cost of using these services including parking fees for the failover IPs.
Topics
Deleting a VPS
To delete your VPS, log into the OVHcloud Manager. Click Server at the top of the screen and then select your VPS from the drop-down menu on the left-hand sidebar.
In the "Shortcuts" box, select Delete my VPS.
On the pop-up menu, click Confirm to confirm the deletion. You will receive an email shortly with a link to delete the VPS. Click the link in the email and you will be taken to the following page: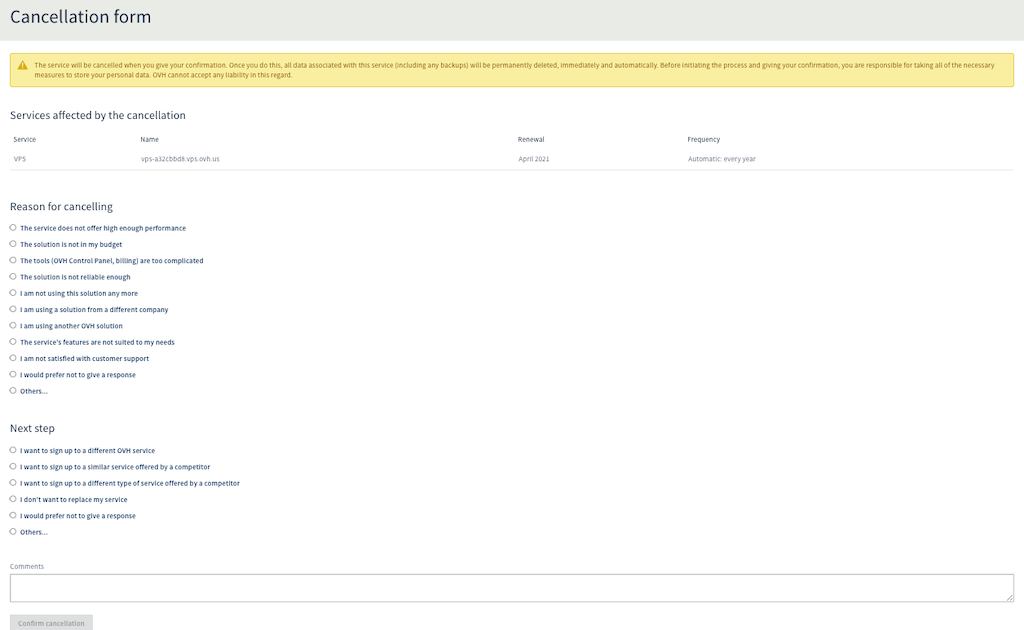 Let us know your reason for canceling and your planned next step and click the Confirm cancellation button at the bottom of the page. You will receive an email shortly confirming your cancellation.
Conclusion
Having read this article, you should now be able to delete your VPS with OVHcloud. To learn more about OVHcloud Virtual Private Servers, please check out more of our Virtual Private Servers articles.