Secondary DNS is responsible for retrieving zone file data from the primary DNS server. Using secondary DNS on a separate network from your primary DNS allows your visitors to access your website in the event of a primary DNS failure. Secondary DNS offers security through redundancy.
Prerequisites
Topics
Configuring Secondary DNS on a VPS
Configuring Secondary DNS on a VPS
To begin configuring secondary DNS on your VPS, log into the OVHcloud Manager. Click the VPS drop-down on the left-hand sidebar and select your VPS from the menu. Then, select the Secondary DNS tab and click the Add a domain button.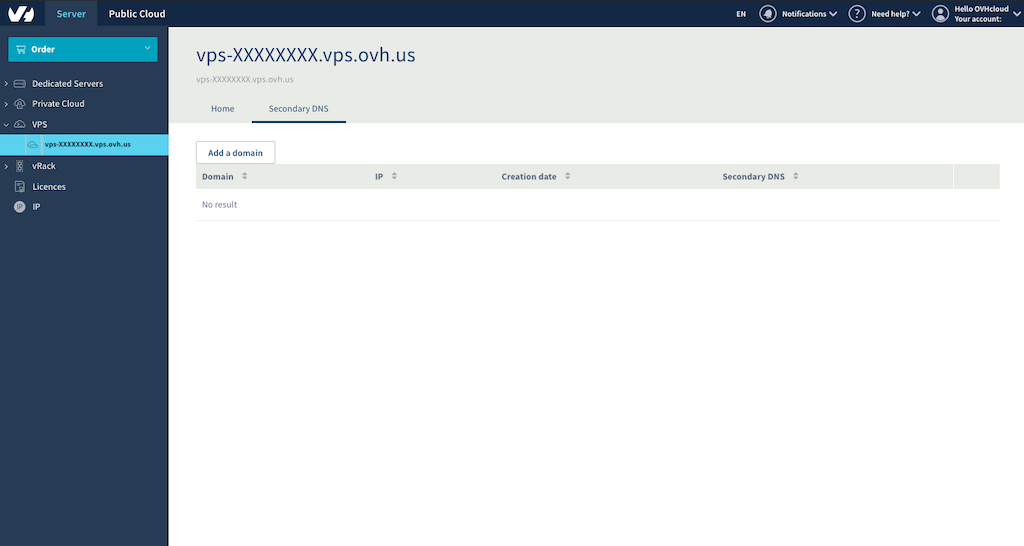 This will bring up a pop-up window where you can add the domain you wish to add to OVHcloud's secondary DNS.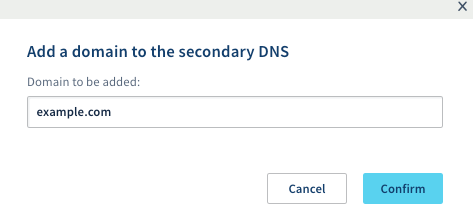 Click Confirm and you will receive instructions regarding a TXT DNS record that you must create with your registrar so that OVHcloud can verify that you own the domain you are trying to add. Below you can see some example instructions. Follow the instructions given to you as they will be unique to each user.

Create the TXT record per the instructions and then repeat the previous process. Once you click Confirm, your website will be all set up to leverage OVHcloud's Secondary DNS.
Note: While you do not have to wait for DNS propagation, you may have to wait a couple of minutes for the OVHcloud Manager to be able to see the new record.
Conclusion
OVHcloud gives our customers the freedom to make their DNS redundant with OVHcloud's free Secondary DNS. Having read this guide, you should be able to set up secondary DNS on an OVHcloud VPS.