This guide will take you through the steps of creating your first Public Cloud project.
Free trial: Create your first Public Cloud project and get $200

 free credit

[1]

.  

Get started now!.
Creating a project is the first step in deploying Public Cloud instances.
Requirements
Instructions
To begin, log in to the OVHcloud Control Panel. Click Public Cloud in the navigation bar at the top of the screen. Once in the Public Cloud space, click the Create your first OVH Public Cloud project button.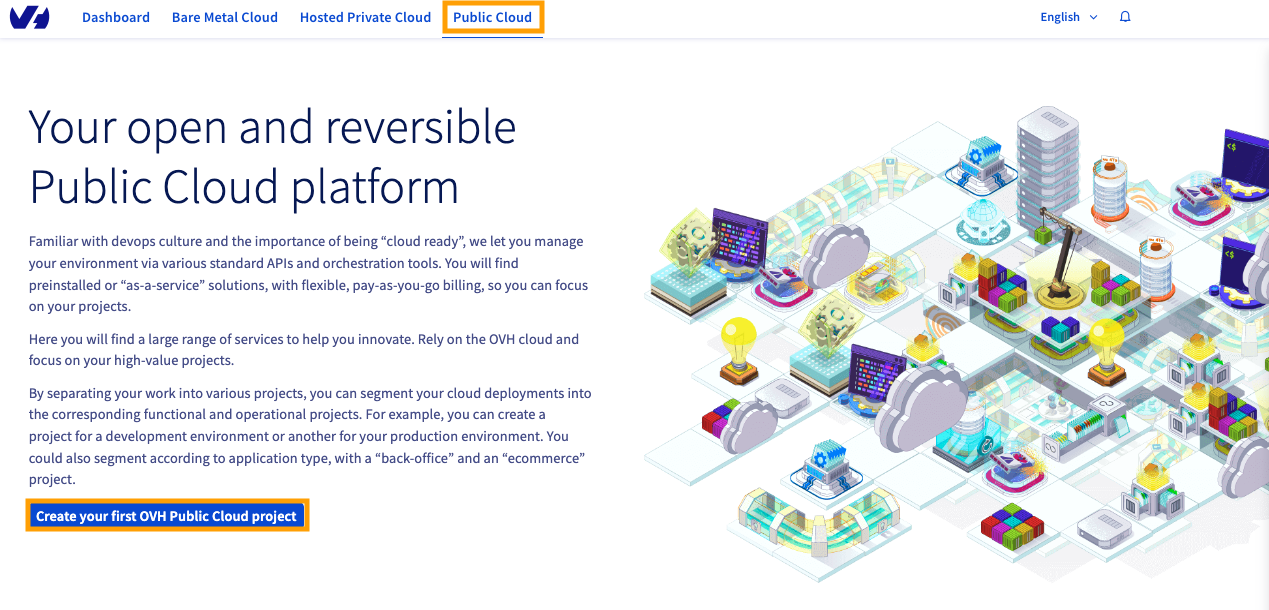 On the "Create a Public Cloud project" page, enter a title for your project in the Project name field and click the Create my project button to proceed to the order funnel.

NOTE: As part of our anti-fraud check, the "Order summary" page lists a $0.99 charge for the first project added to an account. The charge will be a credit that gets applied to your first bill. Any additional projects added to an account will not incur this initial charge and will simply be charged according to resource consumption.
Click Continue to proceed with your order.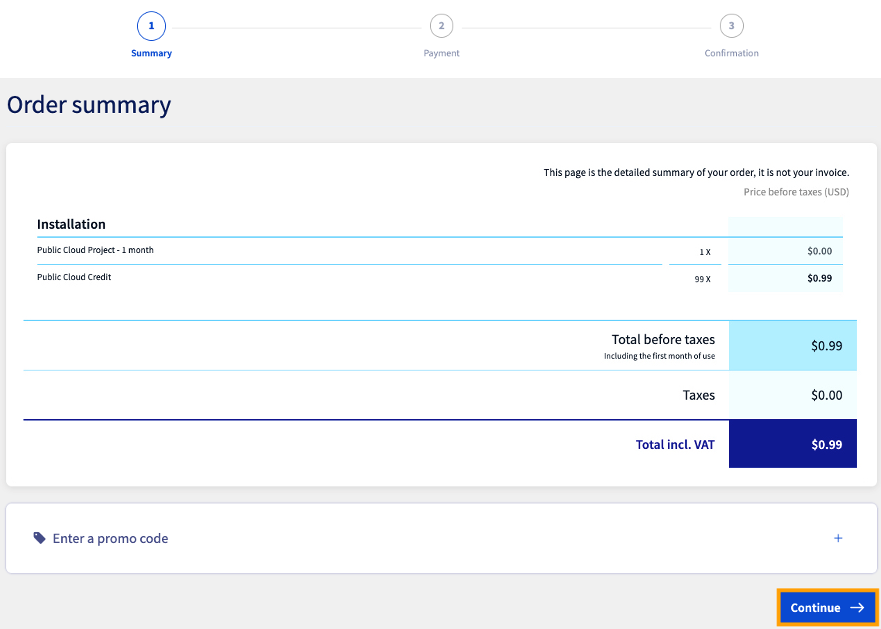 On the next page:
Confirm your billing address and contact information.
Add or confirm your payment method.
If not already done, accept the Terms and Conditions and Privacy Policy.
Click Continue.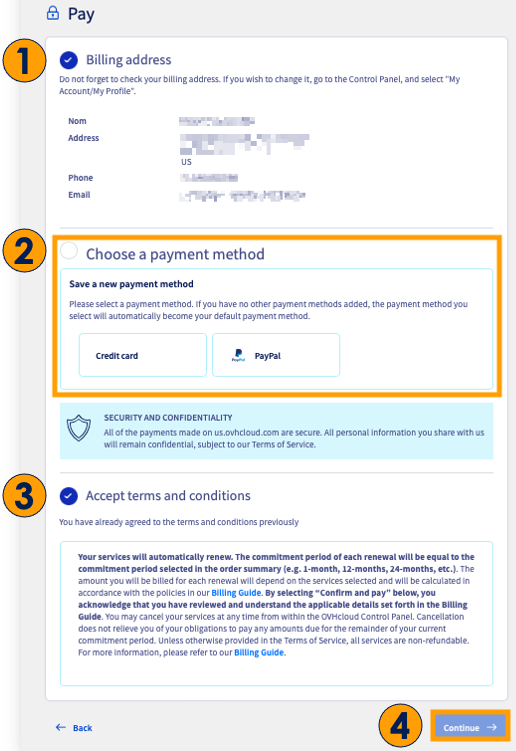 By default, the available resources for a project are 20 instances (servers), 20 vCores (CPU), and 40 GB of RAM. An increase in the resource limit may be requested by submitting a ticket to our Customer Support team.
Congratulations on securing your first public cloud project!
Go further
For more information and tutorials, please see our other Public Cloud support guides or explore the guides for other OVHcloud products and services.
[1]: Receive $200.00 (USD) in additional Public Cloud credits (the "Additional Credits") when you create your first Public Cloud infrastructure project. Offer applies only to Public Cloud services purchased from OVHcloud datacenters in the United States. Offer available only to select customers who, at the time when the Additional Credits are applied, are not purchasing Public Cloud services from OVHcloud and who purchase at least $0.99 (USD) Public Cloud services from OVHcloud. No code is required. The Additional Credits will be added to eligible accounts within 30 days of OVHcloud's receipt of the $0.99 for your purchase of Public Cloud credits. The Additional Credits are valid until December 31, 2023, at 23:59:59 ET. The Additional Credits will automatically be applied to your next bill(s) up to a maximum amount of $200.00. Any unused portion of the Additional Credits will expire. The Additional Credits have no monetary value, and cannot be exchanged, transferred, or refunded. Once the Additional Credits are exhausted or expired, your account will be debited in accordance with OVHcloud's billing guide.