In this article, you will learn about all the different types of licenses we offer and the benefit of purchasing them from OVHcloud versus a third-party. You will also learn how to purchase and enable a license in the OVHcloud Control Panel and how to make Windows OSs available for installation.

Topics
Purchasing a License Directly from OVHcloud Versus a Third-Party
There are a couple of benefits to purchasing a license from OVHcloud. The first is convenience; you do not have to manage two different accounts. Also, the license is instantly attached to your account. It is important to note that a license purchased from OVHcloud cannot be used with another company as it is tied to your OVHcloud IP.
Additionally, when it comes to certain licenses (e.g., Windows Server) you can purchase one under the SPLA (Services Provider License Agreement), which allows vendors (i.e., OVHcloud) to charge a monthly rate instead of the full cost. This is beneficial if your organization is looking to use a license for a brief period of time; for example, a special project. In that scenario, there is no need to pay hundreds of dollars for a license when it is only needed for a couple months.
Types of Licenses Available at OVHcloud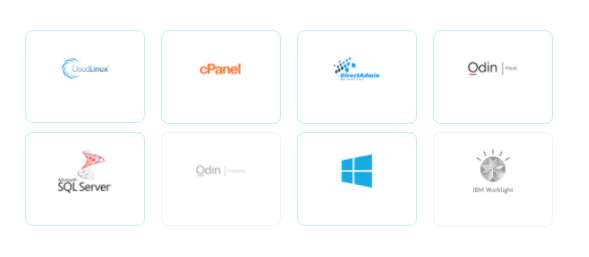 Cloud Linux; an operating system designed specifically for web hosting with stability, security, and churn in mind. It is usually used in conjunction with cPanel.
cPanel; a Unix based control panel that automates and simplifies website hosting. cPanel utilizes a three-tier structure that provides capabilities for administrators, resellers, and end-user website owners to control various aspects of their website and server administration. In addition to the GUI, cPanel also has command line and API-based access that allows third-party software vendors, web hosting organizations, and developers to automate standard system administration processes.
DirectAdmin; a graphical web-based, web-hosting control panel designed to make administration of websites easier. With DirectAdmin you can manage your websites on an Admin, Reseller, and User level.
Plesk; a commercial web hosting platform with a control panel that allows a server administrator to set up new websites, reseller accounts, e-mail accounts, and DNS entries through a web-based interface.
MSSQL; an RDBMS (Relational Database Management System) that supports a wide variety of transaction processing, business intelligence and analytics applications in corporate IT environments. As a database server, it is a software product with the primary function of storing and retrieving data as requested by other software applications.

Virtuozzo; a software application for enterprise server virtualization that allows an administrator to create virtual environments on a host computer at the operating system layer.
Microsoft license; OVHcloud provides Microsoft Windows licenses. The license options are Microsoft Windows Server 2016 Standard and Datacenter Edition and Windows Server 2019 Standard and Datacenter Edition.

IBM Worklight; provides an open, comprehensive, and advanced mobile application platform for smartphones and tablets. It helps organizations of all sizes to efficiently develop, test, connect, run, and manage mobile applications.
Purchasing a License in the OVHcloud Control Panel
To purchase a license directly from OVHcloud, log in to the OVHcloud Control Panel. Click Bare Metal Cloud on the top of the page and then click Licenses on the left-hand sidebar. Click the Actions button then scroll down to Order.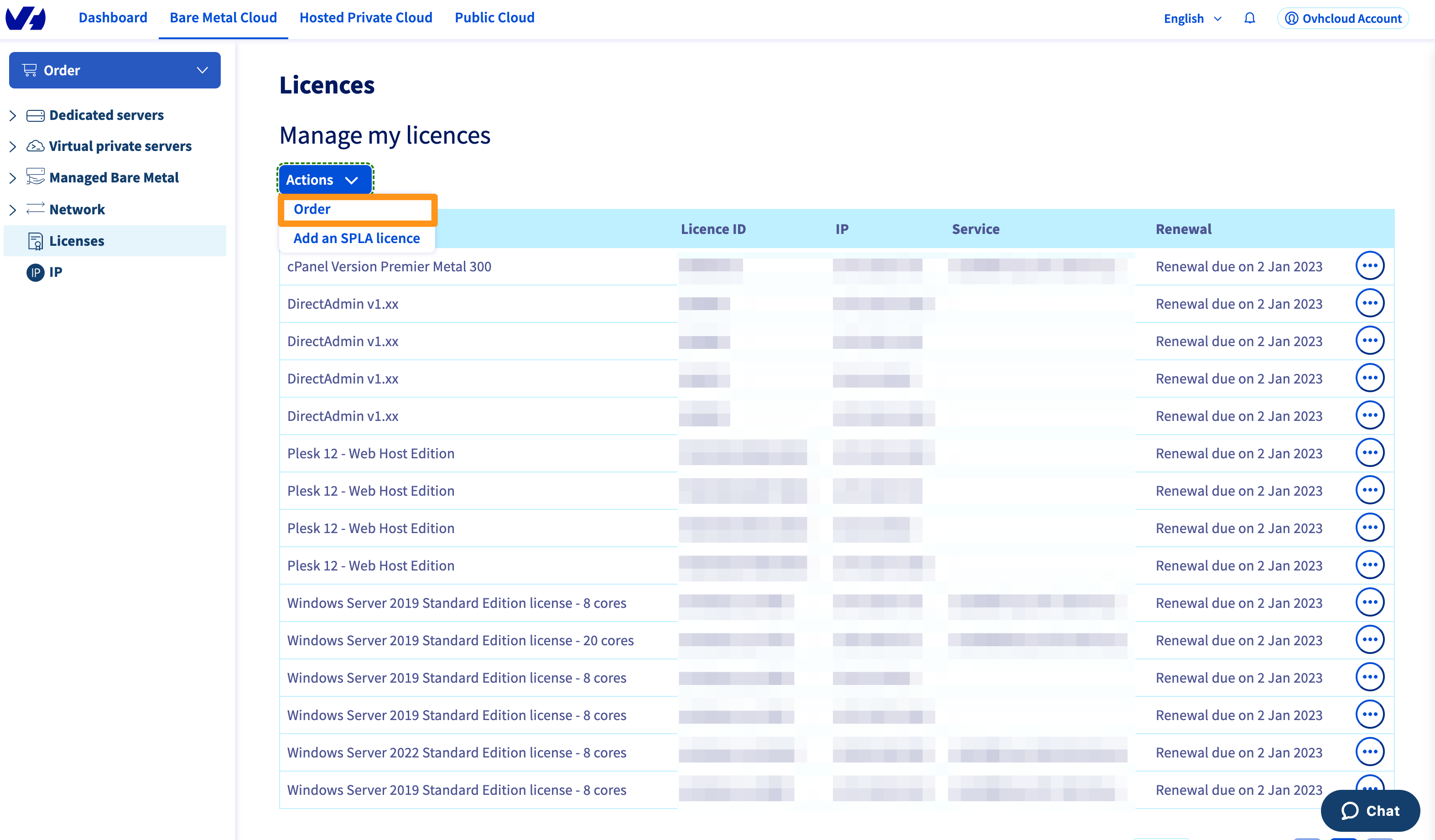 On the following page, select the IP address to which you wish to assign the license. Then, click on the logo that corresponds to the license you'd like to purchase. Select the version and duration. Next, click Pay at the bottom of the screen.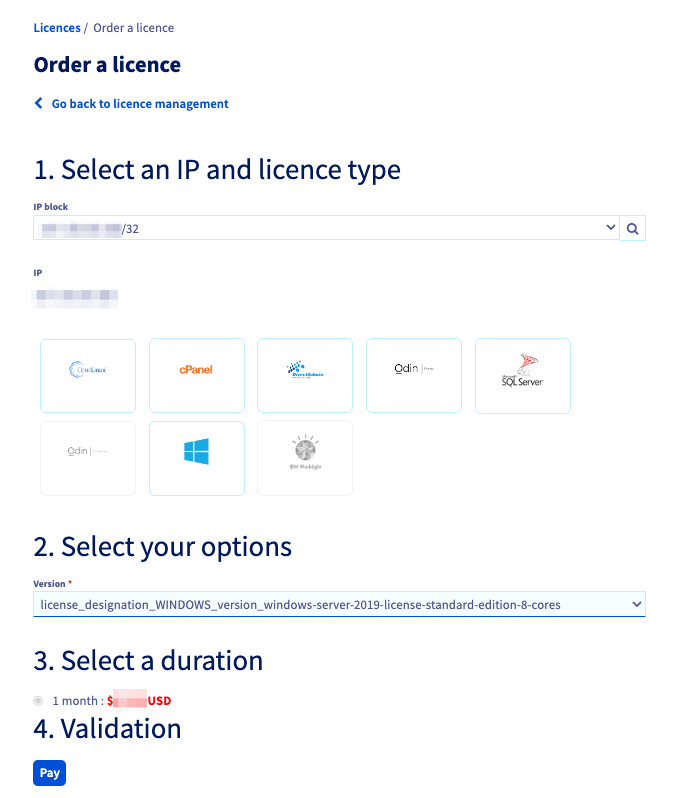 Warning: If a license expires due to nonpayment, the license will no longer be considered valid. This situation can be remedied by contacting support to purchase a new license for the product in question.
Complete the order funnel and the license will be assigned to the IP address you selected.
Adding a Windows License to the OVHcloud Control Panel
You may also purchase a valid Windows license from a third-party. If you have a third-party license, you can add it to the OVHcloud Control Panel. We have a great example of this in our Getting Started with Windows Server tutorial.
Conclusion
In this article, you have learned the benefits of purchasing a license from OVHcloud, which licenses we offer, how to purchase a license, and how to add a Windows license in the OVHcloud Control Panel. You now have the information needed to make a decision on where to purchase your license and what license will fit your needs.