To enhance security for your Managed Bare Metal infrastructure, you can restrict and manage the access to vCenter. In this article, we will go over how to change the access policy for vCenter in the OVHcloud Manager.
Instructions
In the OVHcloud Control Panel:
Click Bare Metal Cloud at the top of the screen.
Select your service under Managed Bare Metal in the left-hand sidebar.
Navigate to the Security tab.
Click Modify vCenter access policy.

In the new window, choose "Open" or "Restricted" from the drop-down list. Click Confirm to apply your selection.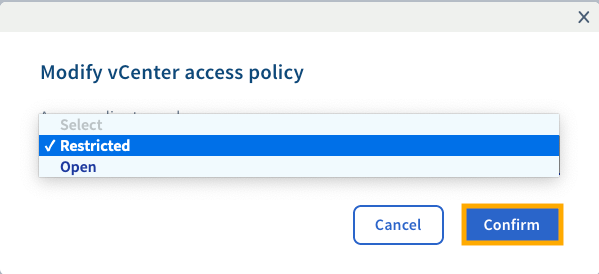 Note: If you have chosen the "Restricted" access policy, follow up by checking out the following article: How to Authorize IP Addresses for vCenter Access.