When purchasing an OVHcloud service, it generally comes with one IPv4 (Internet Protocol version 4) address. However, additional IPv4 addresses can be purchased (as a single IP or in IP blocks), up to 256 IPs per Dedicated Server or Hosted Private Cloud. These are known as FoIPs (Failover IPs), which means they are not bound to a specific device and therefore they can be moved. Another term for Failover IPs is Floating IPs. In this article, we will cover how to order an IPv4 address(es) via the OVHcloud Manager.
Prerequisites
Dedicated Server or Hosted Private Cloud
Topics
Purchasing Failover IPs
To begin, log in to the OVHcloud Control Panel. Click Bare Metal Cloud at the top of the page. Then, click on the Order drop-down in the top of the left-hand column of the page.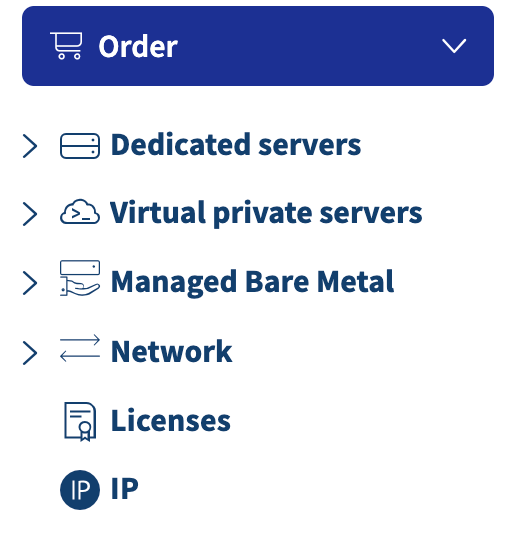 Next, select the Additional IP option.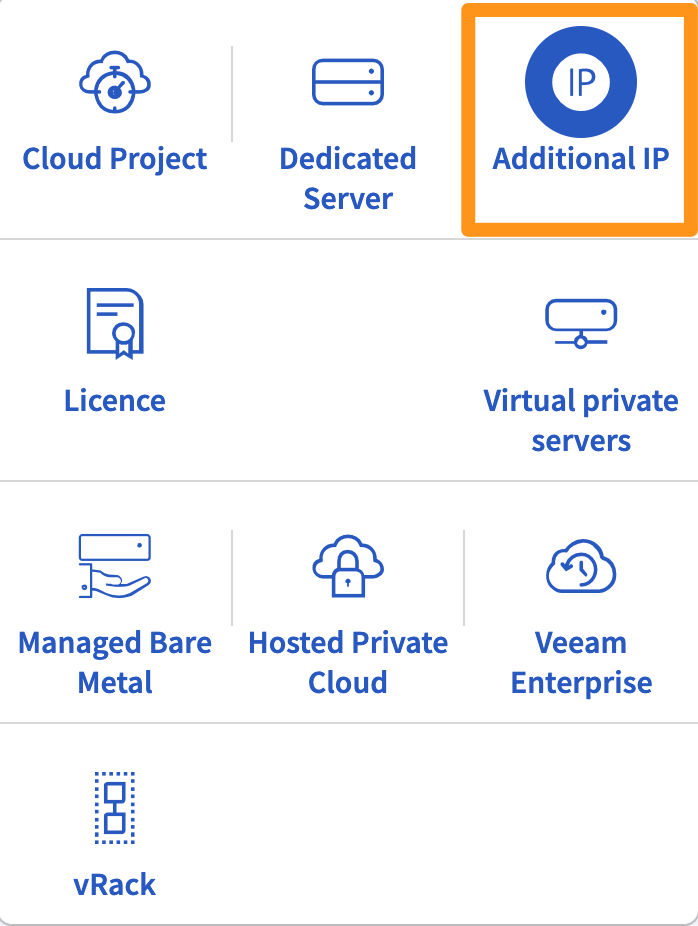 From the "Order additional IPs" pop-up window, choose the Dedicated Server or Hosted Private Cloud environment that you would like the IP address(es) to be attached to.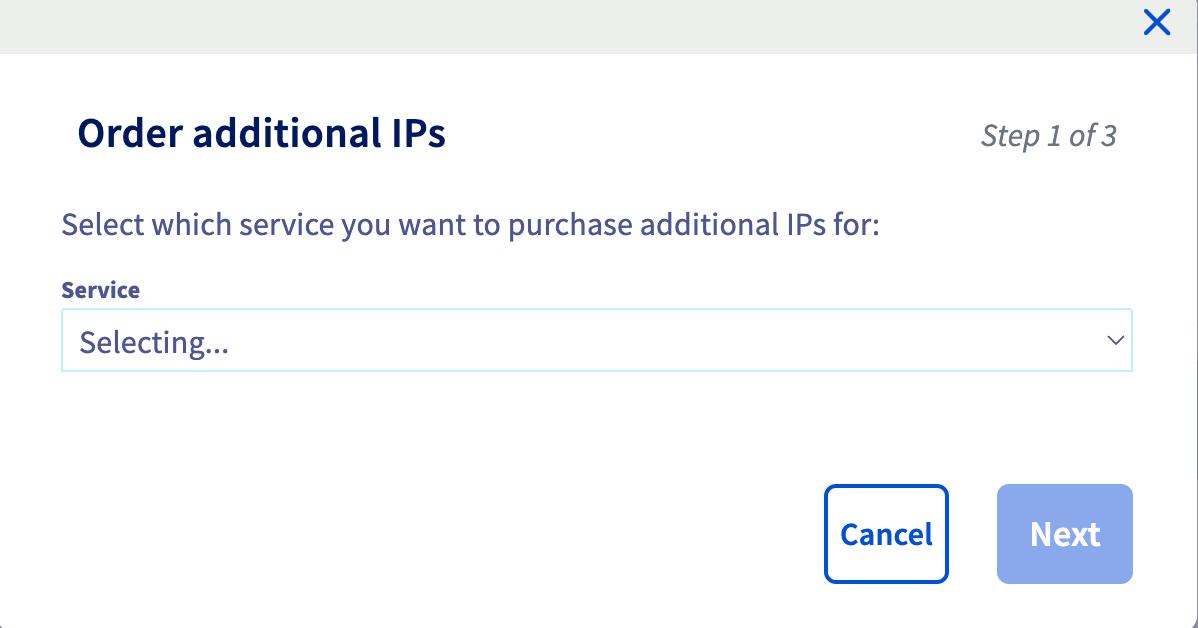 Afterward, click the Next button.
In step two, select the number of IP addresses that you would like to purchase. The choices are: 1 (/32), 4 (/30), 8 (/29), 16 (/28), 32 (/27), 64 (/26), 128 (/25), and 256 (/24). In our example, we are choosing a /32 block or one failover IP.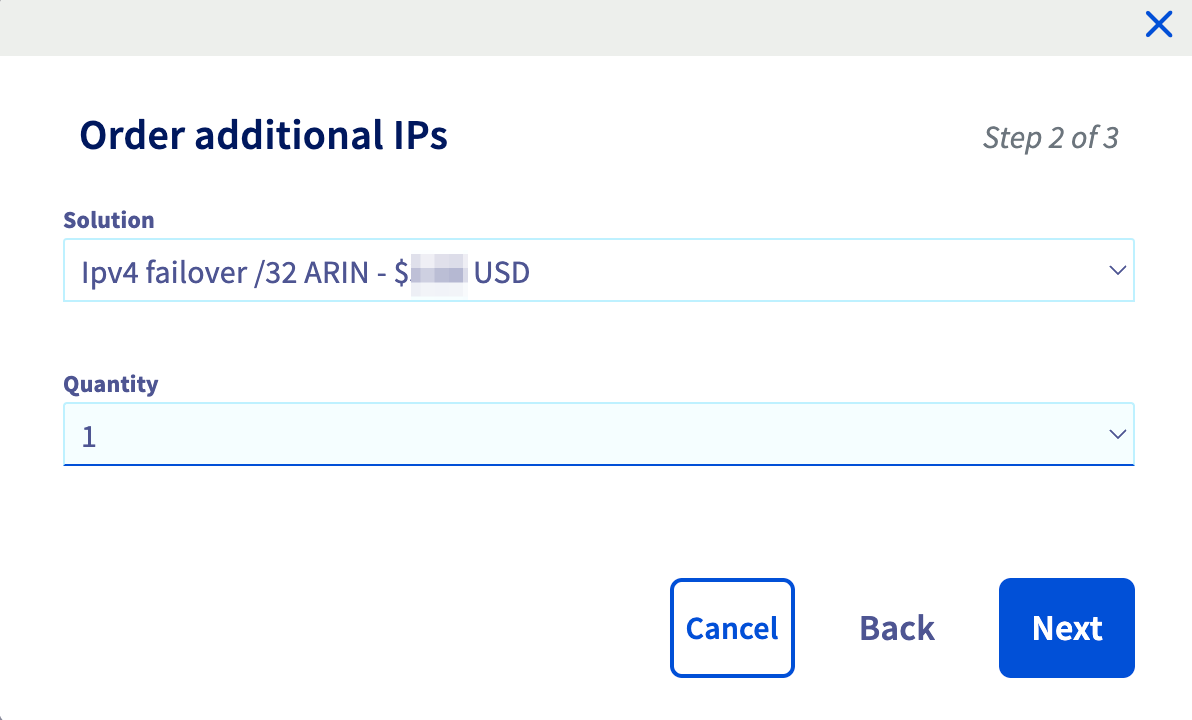 Note: By selecting one (/32) IP address, you have the option to purchase up to 16 individual IP addresses, but in one order. These IP addresses will be handled individually, which means they can be separately assigned to different servers/services.
Additionally, if you purchase a block of 4 IPs (/30) or greater, the IP addresses can still be moved, but as an entire block ONLY. Also, you are able to set the WHOIS information by using the "Click here to access the organization management" link.
Warning: If you elect to create an organization and assign it to a block of IP addresses, that information will be publicly accessible via a WHOIS search and CAN NOT be changed. If you are unsure how to proceed, we recommend selecting "ARIN_104".
After you have chosen your desired purchase, click the Next button. A confirmation notice appears: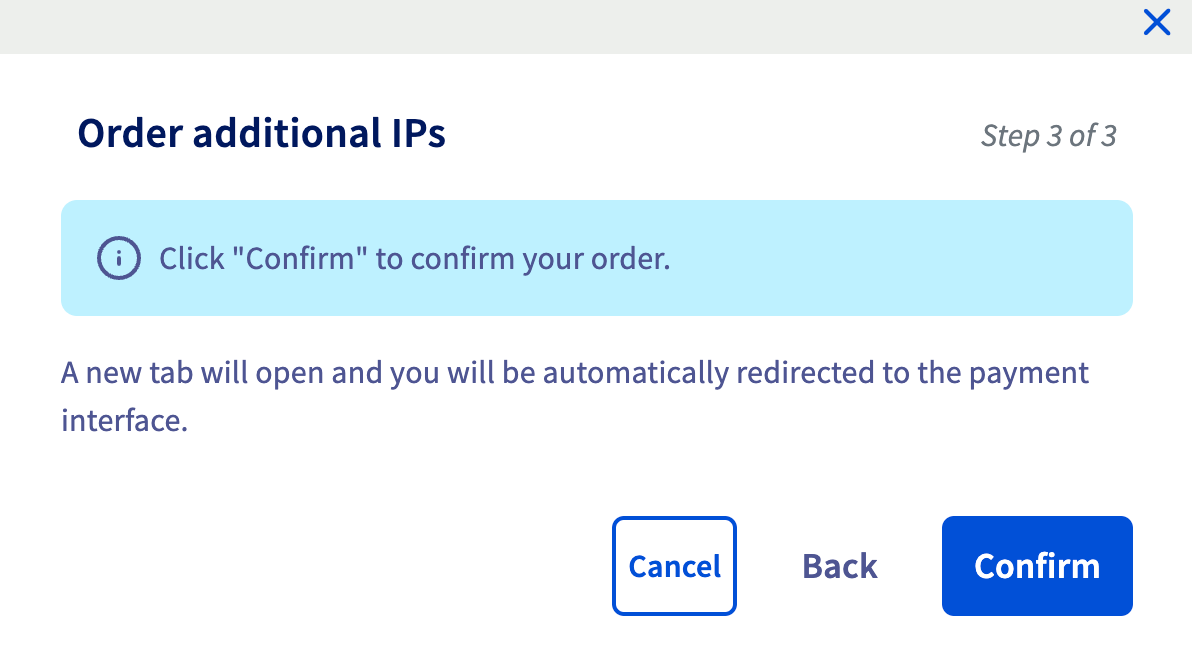 Click the Confirm button to finalize your selection. You are taken to an order page to pay for the additional IP(s). After completing the order the additional IP address(es) will appear in the IP section of the OVHcloud Manager.
Conclusion
We have now gone through the process of adding an additional IP address(es) to an account. If the intended use of a Failover IP address is to connect a VM to the Internet, please check out our How to Connect a VM to the Internet Using VMware ESXi article.